Focus Astronomy is a astronomy program based in Phoenix, Arizona. This program provides interactive astronomy events to middle school (and higher) students as well as the public. Focus reaches over 30,000 people annually and makes astronomy obtainable to all!
For 2020 Focus is looking to bring a new instrument to light. A telescope that will allow our attendees to experience the night sky like you've never seen it before. Images of galaxies, star clusters and nebulae in bright, stunning detail that only an observatory class telescope can provide. Focus is proud to announce the Large Aperture Outreach Telescope (LAOT).
The LAOT will house a 28" (0.7-meter) primary mirror, this will make the telescope one of the largest mobile outreach telescopes. With its large mirror the telescope will gather 96% more light than our current 20" telescope and 10,000x more light than the human eye! Unlike similar sized telescope we are also taking advantage of today's latest mirror technology. The LAOT primary will be a light weight cellular design to provide fast cooling, to ensure the views are crisp and sharp. In order to keep the eyepiece at a safer and major manageable height the mirror will be ground to f/3.3. This will make the eyepiece only 7.5 feet off the ground when pointed vertical. This is nearly 2 to 3 feet shorter than a standard 28", making it easy for everyone to enjoy, safely!
Focus currently has the glass to make this telescope a reality. We now need to turn the glass into the primary mirror and build the structure that will ultimately make it into a telescope! We are reaching out for support to make this become a reality.
​
Once the LAOT is complete it will be one of the largest mobile telescopes dedicated to outreach in the country. The telescope will allow anyone to experience the night sky through a truly observatory class telescope.
​
Thank you for making this project a reality, one step at a time.
​
Focus Astronomy
​
​
​
​
​
​
LAOT Project Info. Packet:
Covers all aspects of the LAOT Project.
​
​
​
​
​
​
Polishing
October 29, 2018: The primary mirror blank finally makes its way onto the polishing machine to become a primary mirror!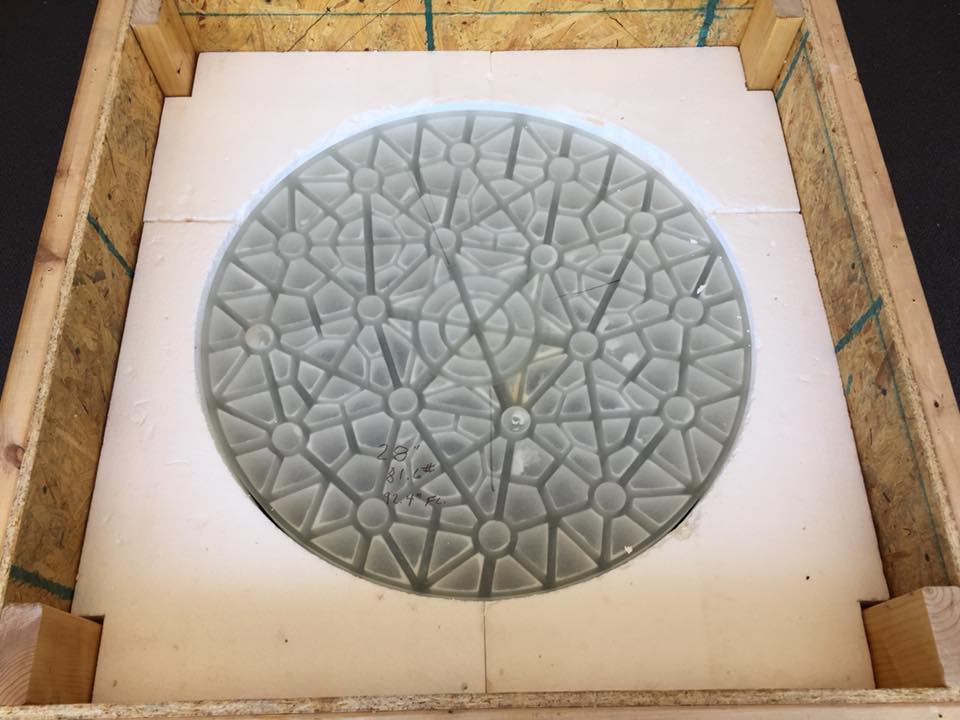 LOAT blank arrives
Early October 2018 the primary blank arrived in Tucson for figuring.
LAOT Digital Model: Side
One design we are looking into for the LAOT 28" telescope. This uses a minimalist upper cage design.
LAOT 28" Cellular mirror blank
The LAOT will feature a cast cellular primary mirror. This will allow the telescope to cool quickly and maintain, sharp, detailed images. Primary glass provided by Mike Lockwood of Lockwood Custom Optics. www.loptics.com
LAOT Secondary
The LAOT will feature a 5.5" minor axis elliptical flat mirror for the secondary. The secondary is being provided by Terri Ostahowski Optics. www.ostahowskioptics.com
LAOT Primary
The LAOT features a 28" diameter primary. This will provide 615 square inches of light gathering power. Compared to our current 20" telescope the LAOT will gather 96% more light and 10,000x more light than the naked eye.
LAOT Project Stage Breakdown:
​
Stage 1: Mirror Generation (COMPLETE)
In this stage the primary mirror blank will need to be machined to the appropriate curve.
​
Stage 2: Mirror Figuring (IN PROCESS)
The glass will then be sent to the optician for figuring. This is where the glass will be polished and turn it into the mirror.
​
Stage 3: Primary Coating
The primary will then be sent off to be coated. This is where the glass will receive its aluminum coating. Once coated the primary will be completed.
​
Stage 4: Construction
Once all the optical elements have been completed we will be ready to build the telescope structure.
​
​
The LAOT is expected to become operational in 2020. Much of this project relies on funding so times may change depending on these variables.